Advanced Android Hacking RAT CypherRAT Is a Most Dangerous Android Remote Access Trojan. We Can Hack Anyone android Phone Using This RAT.
Introduction
Hello guy's We are excited to announce the collaboration between computertipstricks.tech on this blog post! We have bring unique perspectives and expertise to the table, making for a dynamic and informative content.
computertipstricks.tech is known for their Computer Skills, Programming Languages, Computer Tips and Tricks, etc. Together, they will dive into topic of CypherRAT, exploring the latest trends and ideas in the field. So sit back, grab a cup of coffee, and get ready to dive into the world of CypherRAT.
What is CypherRAT
Cypher RAT Is a Most Dangerous Android Remote Access Trojan. We Can Hack Anyone android Phone Using This RAT. a lots of advanced Features Available in It. And It's a Powerful android Hacking Tool of 2022. It has launched in 2022 and It is made by EVLF.
Hackers can Hack and Control Many Devices with Single This Rat In The Same Time. Hackers Can SPY on Many Target's Mobile Devices silently.
CypherRat is Very Smart Malware Design To Steal Target's Phone Informations, and We Can Say That Hacker Can Do anything after infacted via this rat.
CypherRat Design a Payload apk like original Applications, But It is a Smart Malware or "SPYWARE" because it can take auto Permission From Target's Mobile Phone.
Download Requirements
These are two mandatory software. If you face any kind of error during rat cypher software installations then download and install these softwares to solve your error and for smooth use.
1. Microsoft Netframework 3.5 or 4.6.1
2. Java JDK or JRE
System Compatibility
It is properly tested on all windows operating systems. It can work perfectly on all windows operating systems after fulfilling their requirements.
Windows 11
Windows 10 ( Recommended System )
Windows 8.1
Windows 8
Windows 7
How To Install In Windows?
1. First of all Turn Off your antivirus
2. Download and extract the zip file
3. Now unzip it
4. Turn off windows defender real-time protection
5. Run Cypher RAT v5.exe
6. Enjoy.
CypherRat Malware can Hide In All Android Version V6 To V12.
CypherRat Is a Never Uninstall Malware.
CypherRat is Working In Android V6 – v7, v8, v9, v10, v11, and V12 Perfectly.
Also Read : 50+ Awesome Tor Tools For Browsing Dark-web Safely.
Let's Know About Features
Anti-kill
Anti-delete
Real-time monitor
Screen record
Get accessibility automatically
Bypass google play protect
Fully undetectable
Crypto stealer
Control screen ( VNC )
Inject payload apk inside the real app
Never lose victim's
2FA Google authenticator code stealer
Bypass Chinese phones protection
Bypass bank app screen
Run automatically on mobile startup
Bypass battery optimization
Get phone info
Mac address
Microphone capture
Keylogger
SMS manager
File manager
Contacts manager
View live location
Facebook stealer
Gmail stealer
Accounts manager
Accounts stealer
Open any web URL
Open front camera
Open back camera
Social media hunter
Clipboard
Show apps list
Hide/Unhide any file
Delete any file
Encrypt/Decrypt any file
Change wallpaper
Download/Upload any file
Zip/Unzip any file
Play sound
Take mobile screenshot
Many more
So Guys, Now We will Learn To Use CypherRat, We Will Setup in our machine.
Also Read : What is Malware Analysis ? | Malware Analysis Explained | Steps & Examples | by computertipstricks.tech
How To Setup CypherRat in our machine.
1. Unzip CypherRat zip file and click Right Run as administrator.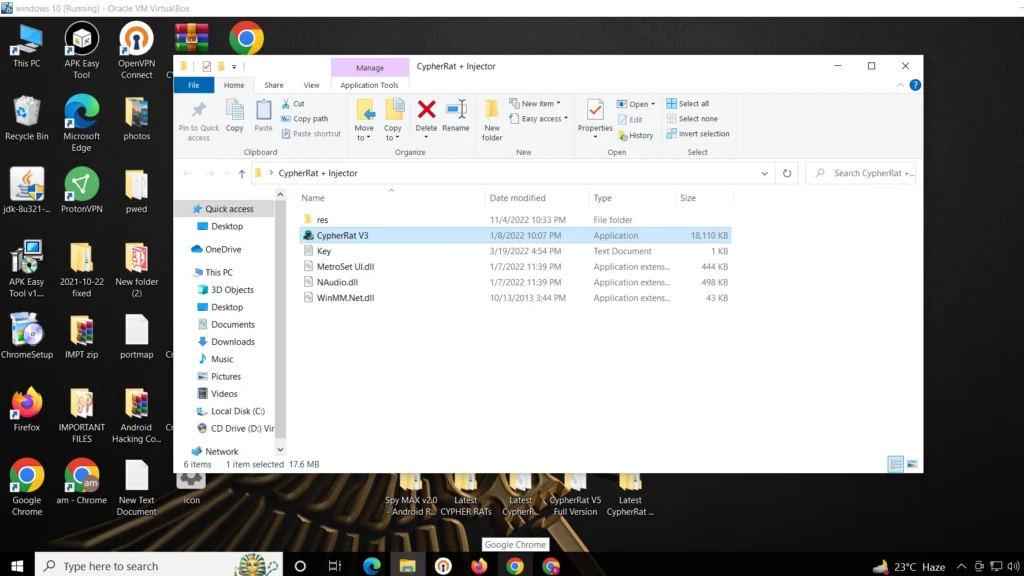 After Run Click on Build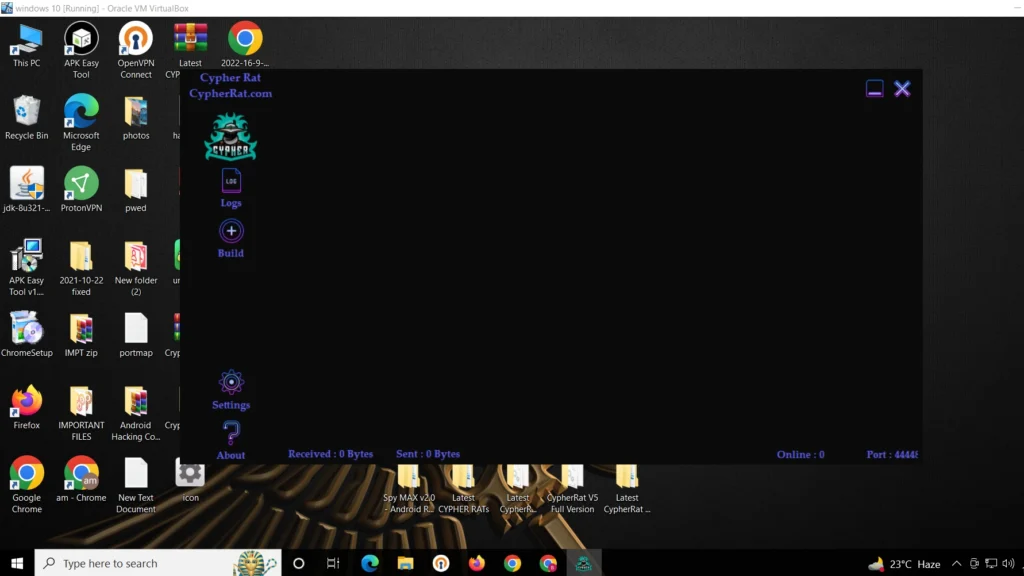 Then Click on Normal, because we are going to build a custom malware.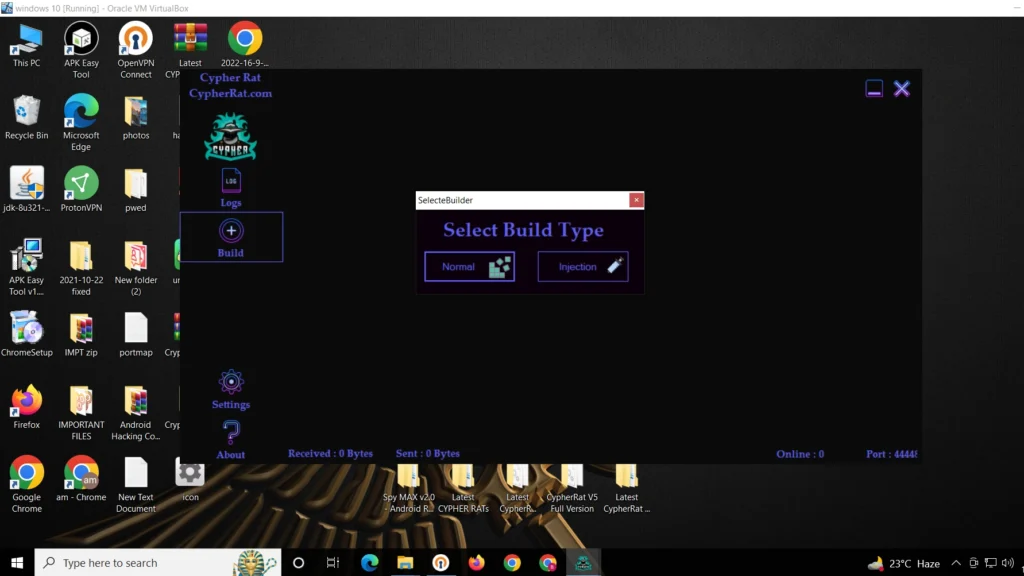 Now, We Need To Put Ip and Port To Build APk.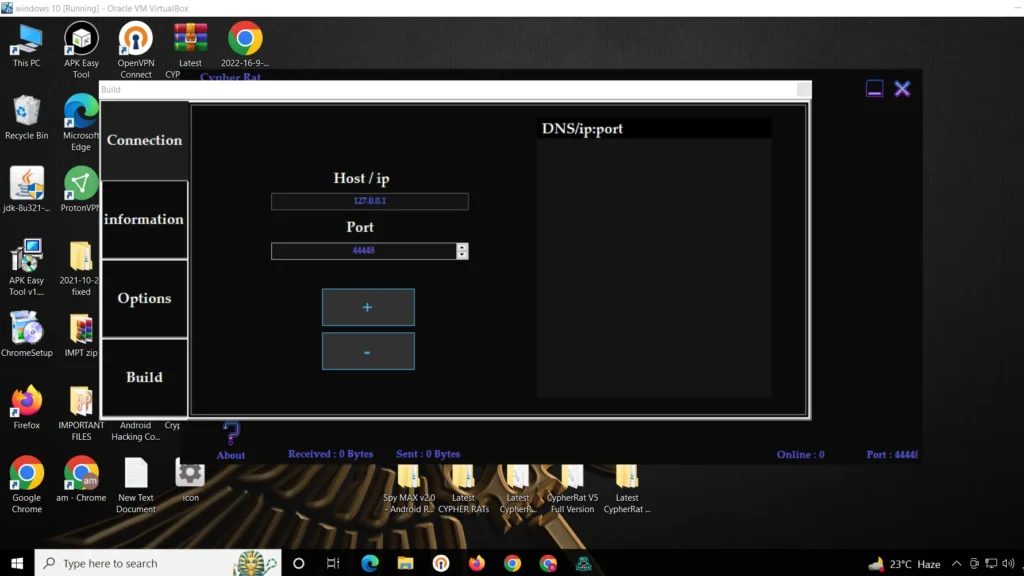 So, Next Click on information and Set according you.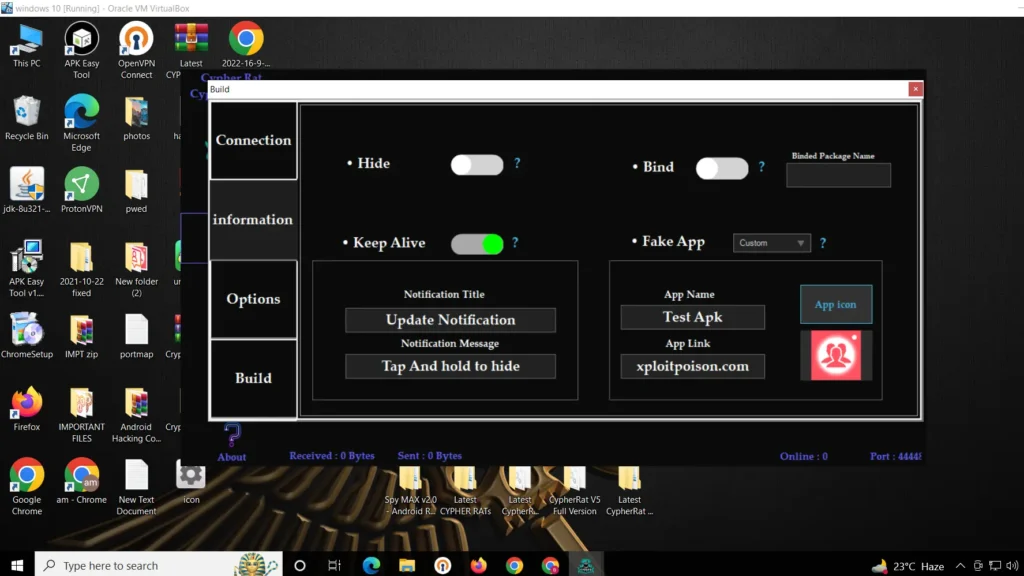 Now Click on Options and set all.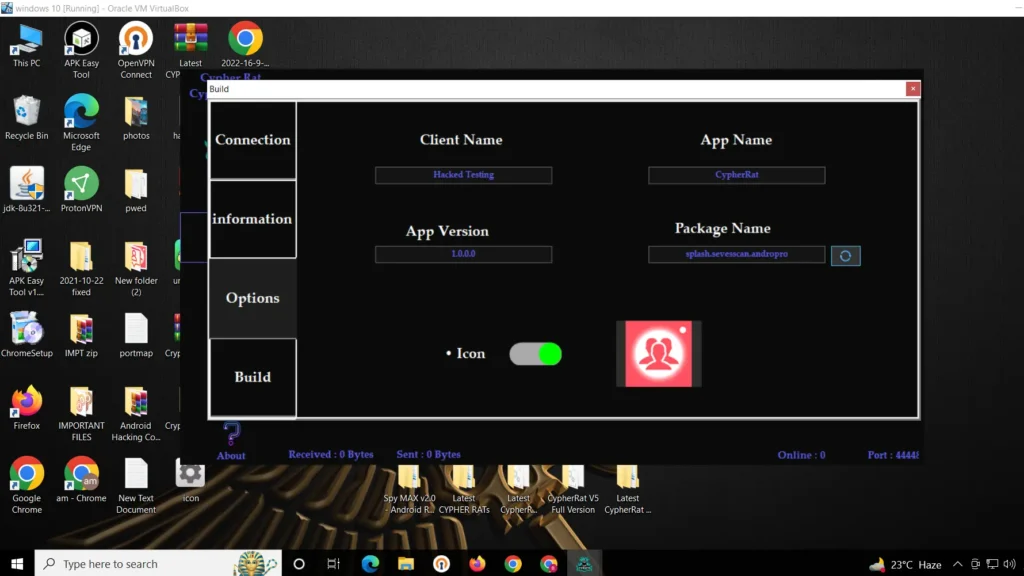 Then Click on Build.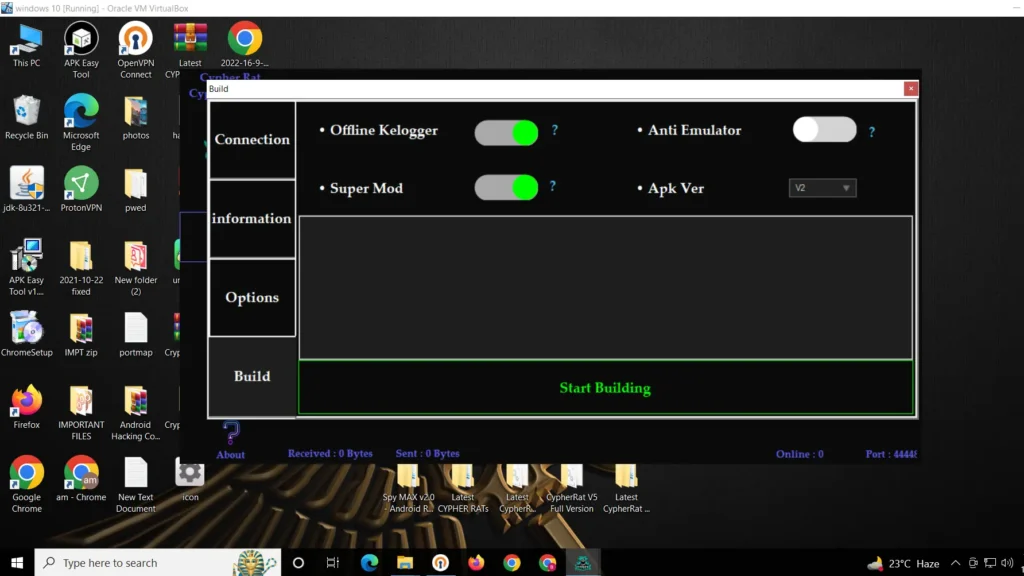 Just Click in Start Building, Then You Will Get a Malware Apk To Hack android.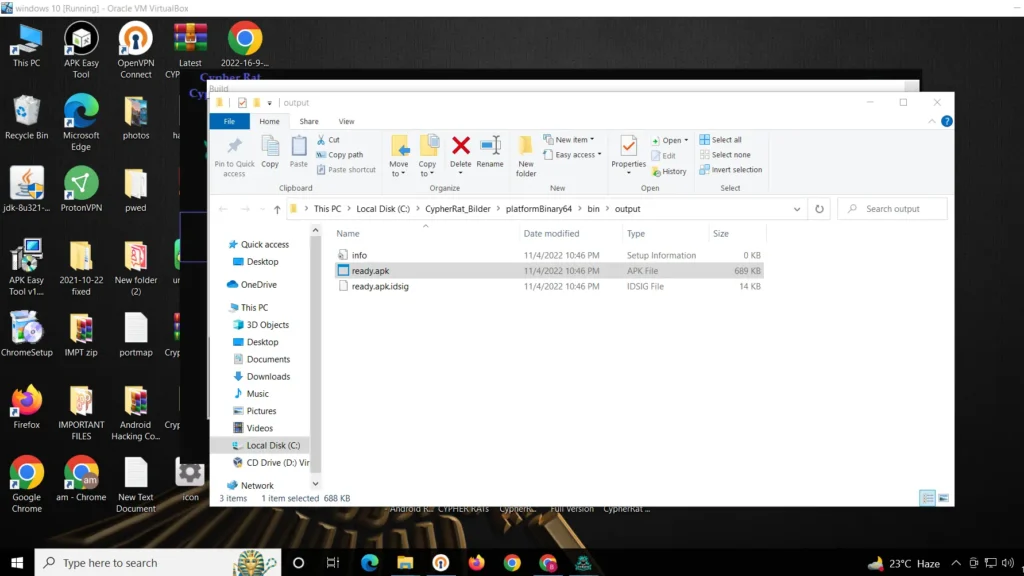 Now We Have Build a CypherRat Malware, Let's send it To Target to Access Devices.
I am going To share Malware Via WhatsApp. You can choose any method to send it.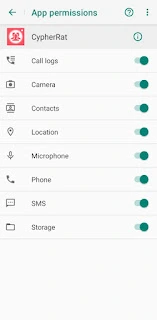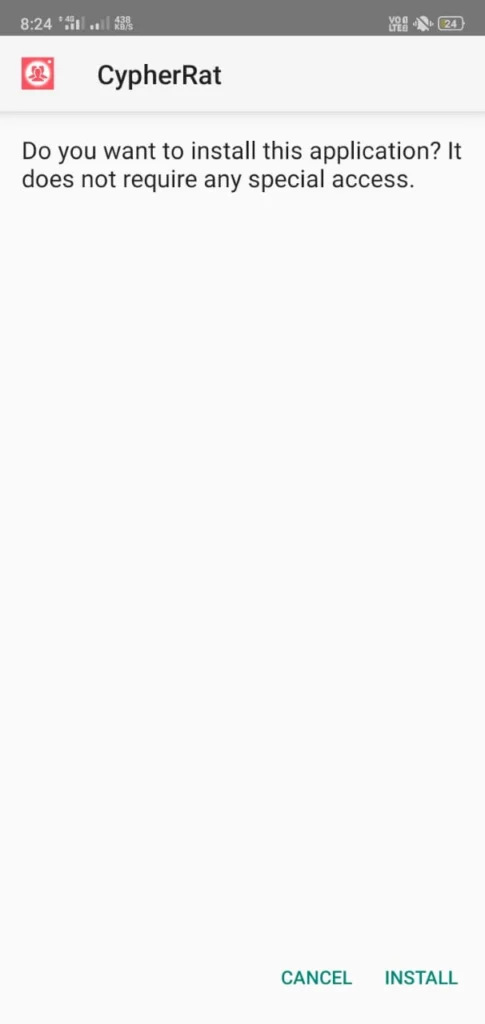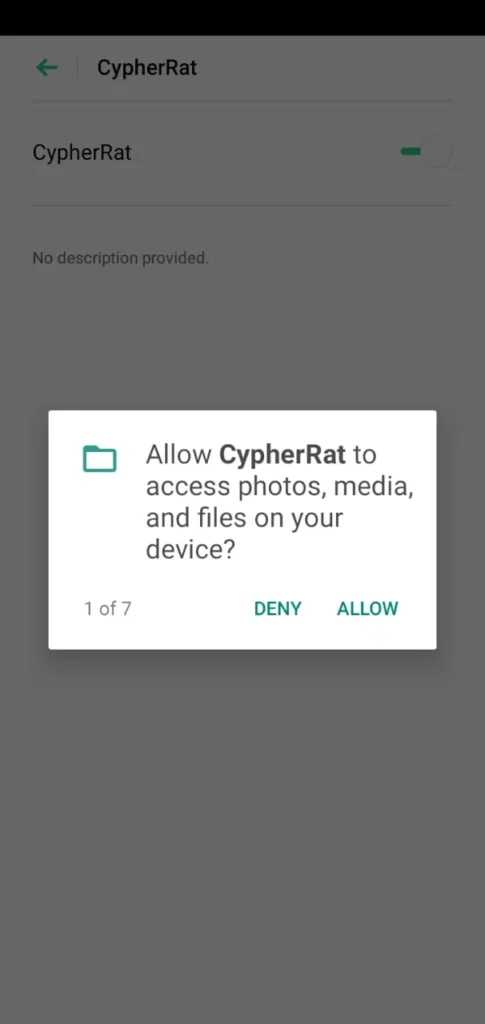 After Installed Apk In Target phone, It Will Take All Permission Automactally. Don't Need Enable Permission Manually.
Now we Can access anythings From Target Devices Remotely.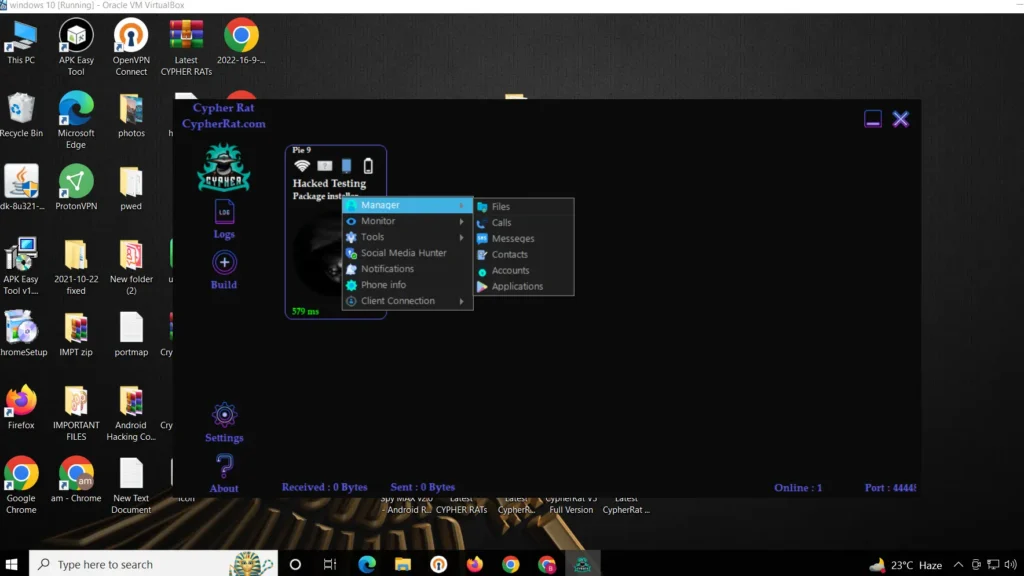 And We Can Monitor and SPY on Devices.
Download CypherRAT FREE |
Conclusion:
I hope you like this article and I am sure you have been successfully Cypher Rat Full Version Download. If you have any questions related to this article then drop your comment below. I will try to answer you as soon as possible.
Share this article with your friends on your social media groups like Facebook, Whatsapp, Telegram, etc for support and encourage us.
Also Read : Dendroid Cracked Download [ 2022 ] HTTP Android RAT Tool