Full-time · Entry level
Location: Mumbai, MH, IN, 400093
Date: Jun 1, 2023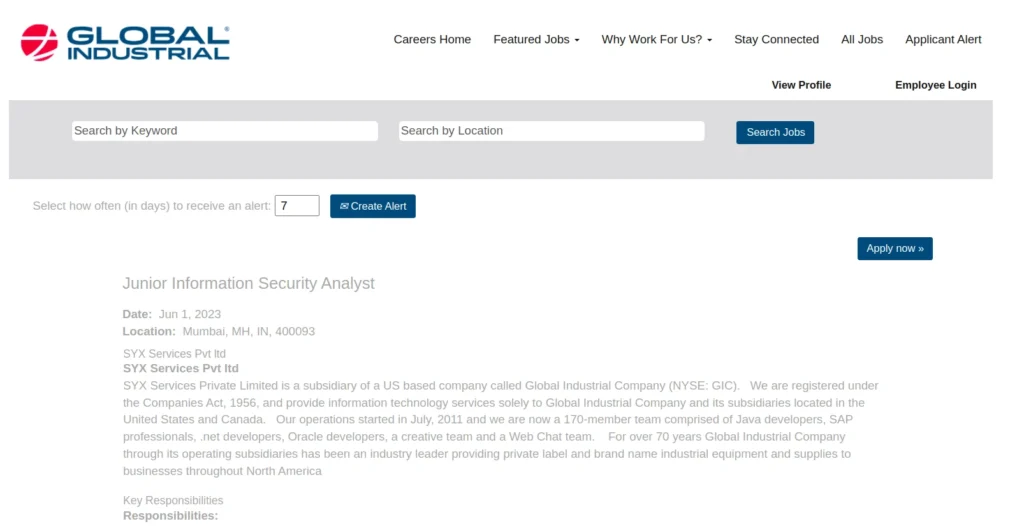 About the job
SYX Services Pvt ltd
SYX Services Private Limited is a subsidiary of a US based company called Global Industrial Company (NYSE: GIC). We are registered under the Companies Act, 1956, and provide information technology services solely to Global Industrial Company and its subsidiaries located in the United States and Canada. Our operations started in July, 2011 and we are now a 170-member team comprised of Java developers, SAP professionals, .net developers, Oracle developers, a creative team and a Web Chat team. For over 70 years Global Industrial Company through its operating subsidiaries has been an industry leader providing private label and brand name industrial equipment and supplies to businesses throughout North America
Also Read : The Ultimate Guide for Bypassing Web Access IP Blocks
Key Responsibilities Responsibilities:
We are hiring an information security analyst to work in our growing IT Security team. You will monitor our computer networks for security issues, install security software, and document any security issues or breaches you find. To do well in this role you should have experience in the information security field.
Monitor computer networks for security issues.
Investigate security breaches and other cybersecurity incidents.
Document security breaches and assess the damage they cause.
Work with the security team to perform tests and uncover network vulnerabilities.
Fix detected vulnerabilities to maintain a high-security standard.
Stay current on IT security trends and news.
Help colleagues install security software and understand information security management.
Research security enhancements and make recommendations to management.
Stay up-to-date on information technology trends and security standards.
Competencies And Skills Qualifications
Bachelor's degree in computer science or related field.
Experience in information security or related field.
Experience with computer network penetration testing and techniques.
Understanding of firewalls, SIEM, antivirus, and ips/ids concepts.
Ability to identify and mitigate network vulnerabilities and explain how to avoid them.
Understanding of patch management with the ability to deploy patches in a timely manner while understanding business impact.